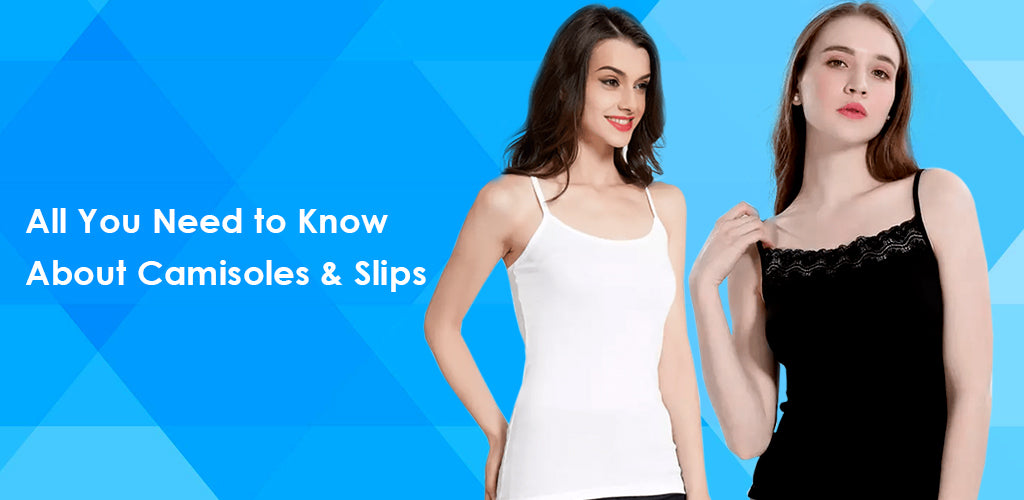 Do you want to tidy up your outfit and draw a style statement? Then go for camisoles & slips, it is the most versatile lingerie. Cotton slips and camisole tops have become a must-have for A-grade fashionistas. A slip adds a sexy sultry mix of cotton charm, and camisole adds versatility, comfort, and a good feeling to your wardrobe. A camisole can enhance appearance as innerwear as well as sleepwear. These days Camisoles Vs Slips created jargon. They are fancier with new designs, colors and premium fabrics like satin, silk, nylon, lycra, spandex, or cotton, have thin shoulder straps like spaghetti tops but not as thick as spaghetti tops. They are often designed to give a snug fit and strap holder, especially when it's made from fine quality cotton stretch fabric, has a built-in bra, and newly arrive camisoles. They are delicate and don't have prints. Long sleeves camisoles than slips, extend to fit your body shape. These body-hugging under tops are designed with spaghetti and transparent straps. Sometimes its neckline can dive low in a cleavage-bearing style or could be a regular round, best-fitting, and clear neckline. Camisole crop Kurtis, t-shirt, and tops look sexy when paired with high waist lower and jeans. These camisoles slip work great as nightwear slip with shorts and for layering under shirts, t-shirt, or jackets.
Camisoles Vs Slips Difference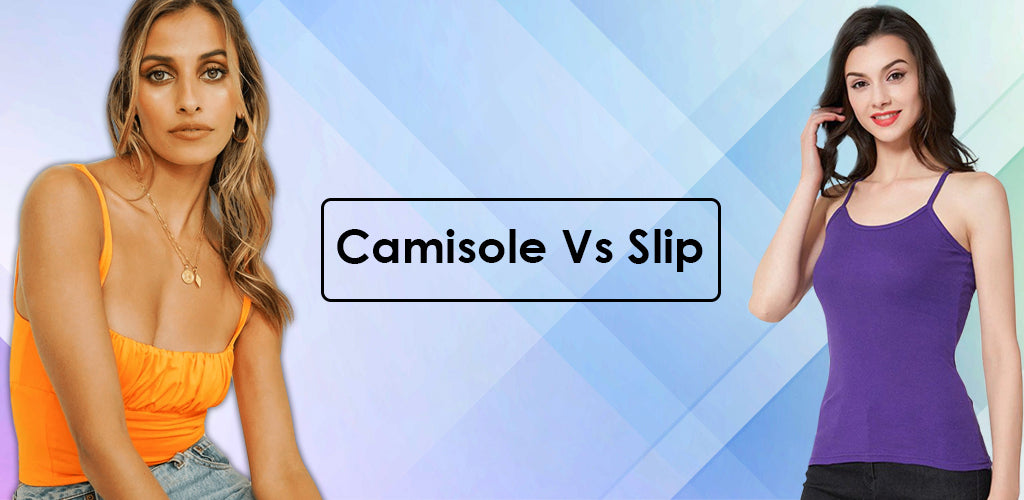 Camisoles are sleeveless tops that are held by spaghetti straps, whereas slip is an undergarment of dress length with shoulder straps. The main difference between camisoles vs slips is that camisoles are worn as casual wear and slips are always worn underneath clothing as undergarments.
Style with Camisoles Vs Slips
Camisoles Vs slips were actually in trend way back in the 80s, now it has made a comeback so that you don't miss the chance to sport a camisole like a celebrity! Because of its versatile nature, you can even wear it as a top to serve minimalist fashion. You can wear a camisole under a cardigan, with a skirt or jeans to complete the look. Wear a shrug along with it, they disguise beautifully and look incredibly fashionable. This lingerie is so farfetched that it could transform the style with the apparel you accompany it with. You can style according to the type of cloth your camisole is made of. Lace camisoles and slips can be worn as sleepwear and sexy lingerie. You can wear semi-transparent and the ones made out of thick fabric as self-styled tops. Pull out a trendy look by pairing it with jeans, a mini skirt, and Capri.
Style your camisole during winter
To bring a charming office look, wear a loose-fitting figure-hugging camisole with a formal blazer tucked in a knee-length skirt to bring a charming office look. You can style a camisole with a knitted top in the winter.
Camisole as a shapewear
Clinging camisole made of knitted cotton fabric play as a fantastic body shaper as it has slimming potential. Apart from that, camisole lace can be worn under sheer tops.
Camisole Top in Australia
A snugly fit camisole will look great with the A-line skirt. Bring out the best of the looks by playing contrast. Wear a black cami with a layered skirt. Stock up your wardrobe with camisoles tops of different styles as it can save your day and night on many occasions. Innerwear.com.au has different types of camisole short sets available to cater to all kinds of fashion needs.
Camisole Bra
It is a trend-setting piece nowadays at the meeting, festivals, on the beach, seminars and cool summer parties. You can wear a classic camisole under tank, t-shirt, skin-tight clothes. This makes ladies look presentable and take care of all the curves of every women's body while keeping her comfortable and good feeling at all times. Slips and camisole must be purchased with utmost care as they make the foundation and great commending of a good dress. A woman's slip dress from Australia plays an important part in ensuring a proper fit in your inner body parts, makes you feel comfortable and presentable.
Camisoles Vs slips provide the right base for looking beautiful and charming in anything and everything that is worn right from ethnic wear like sarees, western dresses, or traditional Indian suits to formal dresses. They are the best comfort and quintessential wear that stay unmentionable throughout their lifestyle. Due to changes in lifestyles and hectic schedules, no more ladies have to stay indoors, have to deliver professional and personal commitments that are why days have become more tiring for ladies and girls. When a woman does not feel comfortable in her attire, it becomes hard for her to perform. Go for a cotton camisole which is the best to get comfort, while in office formals dresses or party dress making her a winner quietly by giving comfort, fitting, and confidence to succeed. They ensure zero sweat inner lines as being made in breathable cotton fabric during harsh summer. You can wear a multiway camisole and slips to the office. Skin color camisole with black blazers makes you feel like heaven. Wear a black camisole, a brown, pink or a red jacket if you want to experiment on a pair of black lower and trousers. Wear black heels with it to get a killer look.
Sports camisole
It can be a fashion sensation at your gym or yoga center. It comes in many styles that make a perfect outfit for any occasion. You can wear a sports camisole with jeans, a lower or a skirt. It is the best lingerie wear under a sheer blouse, inner top to contrast its girly details. You can wear a jacket over it. You can eliminate the bland look of the corporate world by wearing a sports camisole beneath a business suit. Enjoy multiple designs and looks with one camisole. It serves as great apparel for women. For every woman and girl interested in the gym, yoga, and running the camisole from Australia is very comfortable and supportable.
Buy camisole tops from Australia of your choice from innerwear.com.au to get stylish and comfortable