Are you suffering through a workout in the wrong sports bra that leads to sagging and even soreness? Picking the right Best Sports Bra for women is not an art, you just need to know a few tricks.
Choosing the well-fitted best sports bra for women is vital to help you enjoy your workout and perform at your best. The right Sports bra for women is comfy and allows for flexible movement. It has features that are suitable for different bust sizes and activities. A sports bra that doesn't fit well may scratch, or make you feel confined around your ribcage, and doesn't keep you in place. How much support is needed depends on your cup size and the type of activity that you perform.
Here's is the guide to choosing the exact fit, comfortable and supportive sports bra for women that can meet their workout needs.
High impact sports bras
High support sports bras for women are crafted for high-impact exercises such as running/ jumping, it also involves bouncing and bigger movements. This style of bras is with secure back clasps, wide straps, supportive cups. The task of the best sports bras for running is to keep your breasts in place.  This kind of bra limits the amount of movement with less breast pain and supports your breasts in every direction. The limited possible distractions can help you to enjoy your exercise and performance. Some high support bras can go up to size 44G, which makes them ideal as sports bras for large breasts.
Medium-impact sports bras
This style of bras is good for lighter impact exercises like spin, power walking, hiking, aerobics, or strength training. This style of bras is made from soft, smooth fabric with enough support to keep everything in place. It is perfect for smaller cup sizes and those doing more stationary exercises. It is preferred by women with larger chests for the extra support needed for low-impact exercise.
Best Sports bra for larger chests
You need to choose medium or high-support best sports bras, if you have larger breasts, even for a low-impact exercise. You feel comfortable and supported during exercise with extra support.
How You Can Choose a Perfect Sports Bra
Compression or encapsulation
Compression: Shelf bra styles are good for low to moderate impact workouts with a smaller cup size (A and B).
Encapsulation: Best sports bras with individual cups are better for heavy-breasted women than compression style.
Racerback or wide straps
Racerback: It provides more support as the straps anchor the bra closer to the body.
Wide straps: They are more likely to be adjustable, padded as shoulder straps help distribute weight better than T-backs.
Pullover or back clasp
Pullover: This style of stretch lack the harsh front straps, adjustability, and support to anchor large chests. Tank styles cover the back more than clasps.
Back Clasp: These are important for larger breasts, and place more demand on the band. The clasps let you tighten the band, from which 70 percent of the bra's support comes.
Different Types Of Sports Bras
Compression Sports Bras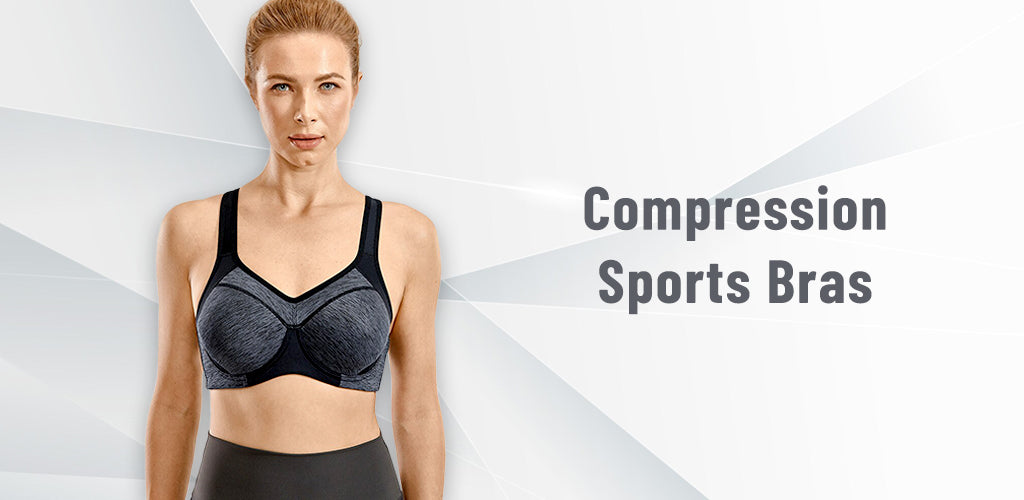 This style of cute sports bras limits motion by pressing breast tissue against the chest wall. It doesn't separate the breasts and in turn can present a minimizing, or uni-boob effect. They are better suited for smaller cup sizes, and only limit the in and out movement of breasts away from and towards the chest.
Encapsulation Sports Bras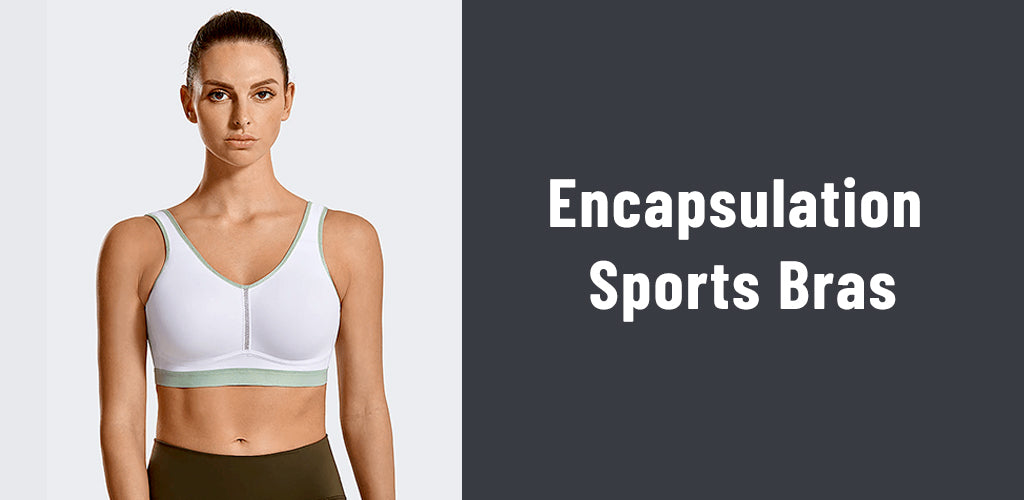 This style of bras is bras, like regular bras where the breasts have a separate cup for each breast. These bras offer the best support because they limit horizontal and vertical movement in the breast.
Racer Back Sports Bras
This kind of bra has a unique formation and is very comfortable, the straps help scatter weight across the entire back, which can relieve the pressure that large breasts may put on the upper back, shoulders, and neck. The design of racerback bras offers better breast support, keeps the straps from slipping off of the shoulders during activities, and enhances the posture slightly by pulling the shoulders back. Racerback bras straps are angled in toward the center of your back offer unbelievable support, and additional lift. It is appreciated by smaller-busted women who want to achieve a little cleavage.
Plus-size sports bras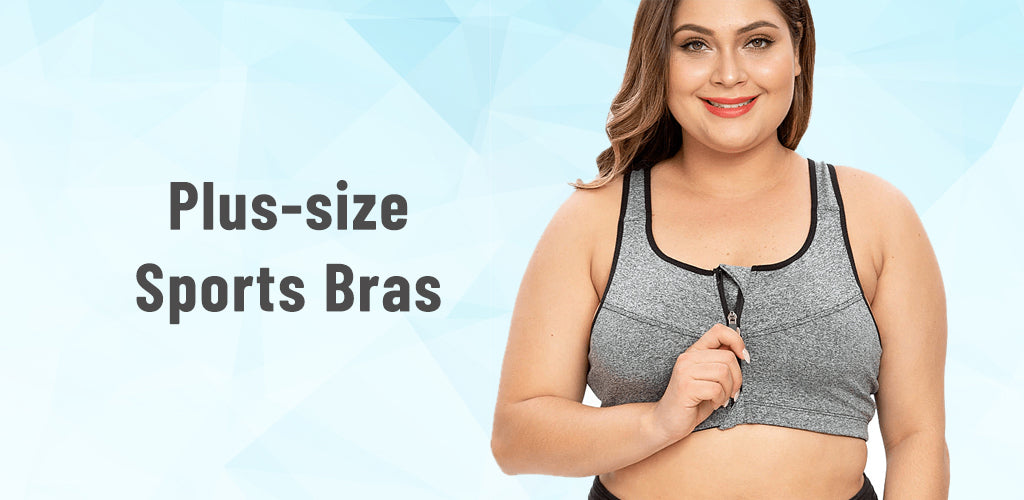 Plus size sports bras have become a fashion favorite. Women during these days prefer, comfort over cleavage and replace their everyday bra with a sports bra. They are a great option as are not crafted to be sexy but look after our breasts daily.
Full busted Sports Bras
This style of best sports bra may flatten, compress and also helps to keep them out of the way and restrict movement. Sports bras for full bust offer adjustable straps, to feel supported. These underwires sit flat on the ribs but not on the breasts. The newer sports bras are crafted with high-tech moisture-wicking fabrics which improve breathability, remove excess moisture from sweat.
Padded Sports Bras: 
This style of bra maintains a uniform look underneath the top garment and holds the breasts in place, keeping them from bouncing. It offers added support during activities that place additional strain and pull on the chest area that may cause discomfort and pain during and after the activity has stopped. This type of padded sports bra covers more of the breast area, from the top of the chest line to the sides of the breast and around the rib cage. They contain pads or additional fabric in cups, straps, hooks, and eye areas to reduce friction and minimize discomfort to the skin. A large busted female may find those with a clasp in the back give more support than pullover bras.
Teenage Sports Bras
This style of women's sports bras offers comfort, minimizes breast movement, and helps to protect the delicate breast tissue from damage during athletic activities. When you choose a racerback style, they offer good support. The best sports bra for teenagers helps to protect their delicate breast tissue, especially during exercise, and makes you feel more comfortable and confident.
Non-padded sports bras
They do not have any pads attached to the cups and are more supportive. Non-padded sports bras add a desirable push and better shape to the overall body frame. They are very comfortable to wear because the fabric lining in these bras nurtures your breast naturally without any barrier of heavy pads. They are not too tight and offer minimal support to your breasts. It offers a natural shape to your breasts, wicks away moisture, is perfect for daily use.
Underwired Sports bras
They are good for high-impact workouts and some women prefer the comfort of underwired sports bras for yoga activities too. Its moisture-wicking fabric helps to keep skin dry and cool during any workout. The underwired sit against your rib cage and do not dig into or on top of any breast tissue.
Wire-free Sports bras
They are compression-style best sports bras for women that press your breast to your body. They offer maximum comfort and flexibility for medium or low-impact work out like jumping or running.  The stable three-dimensional cup reduces the movement of the bust and its cross-back straps support the free movement.
Are you looking to invest in the best sports bra for women that are comfortable and supportive while doing fitness activities? Then go for soft and stretchy fabric, it will prevent irritation during intense activities.
Innerwear Australia has a good collection of cheap sports bras, so pay a visit and grab good offers, heavy discounts, and deals now.