Are you ready to splash out with this valentines day lingerie? This is the time that calls to set sparks flying as love is in the wear! Particularly, if you want to have an exciting time in the bedroom with your partner. Everyone's definition of sexy is different, for some it means showing as much skin as possible and for others, it just means feeling confident no matter what you are wearing? Still, regardless of your definition, valentines day lingerie should be whatever you feel you are best in.
If you are looking to invest in some new lingerie sets this valentine, rest assured there are tons of romantic options available no matter your style. And there is no better way for valentine's celebration than treating yourself with valentine's innerwear, which makes you feel good and amazing.
Red-hot bras are guaranteed to set pulses racing this valentines day lingerie. There's style to suit everyone, from barely lace bralette to racy red sets the high street has undies covered. You can have sauciest looks around from sexy one-piece, two-piece to seductive cover-up, velvet, lace, or mesh; these will guarantee a perfect match. You don't need to wait for a reason to buy valentine bra sets if you love feeling good about yourself.
It doesn't matter whether you wear Valentine's Day bra for yourself, a partner, or everyone, there's just something about the act of wearing lingerie that can make you feel sexier than when you wear anything else. And while certain styles of lingerie are classics that never go out of style, there are also plenty of lingerie trends every year of which to be aware.
Likely, whoever sees you in lingerie won't care whether or not the piece is on-trend, they probably have other things on their mind, hehe-but staying on top of trends is, quite frankly, fun. So buckle up, lingerie-lovers, because there are some seriously sexy looks to rock this valentines day lingerie in 2022.
Lingerie comes in myriad forms. The lacy bra that you wear every single day, gives you confidence that's lingerie. With that in mind, it makes sense that there are so many different varieties of lingerie options available, from all different types of brands. Of course, whenever we're doing Valentine's Day shopping, it's nice to know which styles and pieces are currently trending. Should we start bedazzling our bras? Or should we stock up on lacy looks or opt for something simpler?
Here are gifts for women this Valentines day lingerie
Bralette-Babydoll Sets:
Our latest bralette babydoll sets feature sheer silk chiffon, embroidered lace, and more. The pretty lace bralette has slits on the cups with ribbon ties. We also have bralette baby doll sets featuring a deep v neck and stretch scalloped lace bralette bra, adjustable spaghetti strap. Babydolls bralette doesn't leave anything to the imagination, it spices up things on the big day and sets the tone right from frills to embellishments to cut-outs, the world is at your feet. Considering the endless options, you might just end up purchasing much more than you expect.
Nightwear: 
Transparent nighties spell sheer seduction and could be more romantic and enticing to your partner on a special night. It is the perfect playful attire that would turn his head over heels for you. If you want to make her fall in love with you all over again then slip her into a satin nighty with a matching robe, it's uber comfortable to sleep in and also a very sensual gifting idea. The best part is you don't even need to visit the nearby store, as nightwear lingerie shopping has become an online thing, all you need to do is tap the checkout button on innerwear.com.au lingerie website. If you are in a mood to go all out with your partner, then why stop at just one when you can buy the entire nightwear set to shower her love. It is the perfect and most memorable valentine's gift for your partner.
Bralettes-Satin Nighty Sets:
Satin is certainly in, right now, so you can go for the classic bralette satin nighty sets, they are the best thing to gift her. This kind of nighty is a perfect combination of glamour and solace that you won't be able to take your eyes off of her. The soft cozy and luxurious satin is just stunning and comfortable. You can't deny being utterly chic and sophisticated about this satin nightwear. The flawless satin bralette is crafted with exquisite lace fabric has a very pretty pattern along the underbust and has adjustable shoulder straps for a better fit.
G-string & Thong Panties: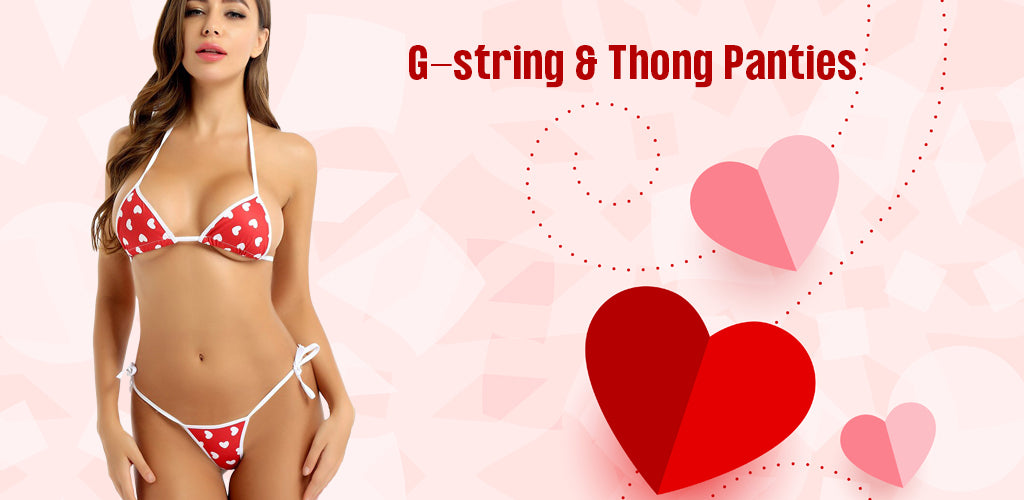 Valentine is the best gift your lady love with some grade-A variety Valentine's Day panties thong. It is a garment worn as either underwear or a swimsuit. It can be a treat for your eyes as you want to spice up your romance by adding a little hot and sexy lingerie play in it. You can add romance and fun to your bedtime with bright, romantic G-strings and thong panties. It is sure to enhance your sex appeal these V-day special thong and G-string will make your man want you more than ever.
Baby dolls with Thongs: 
Baby doll sets are the perfect Valentine's Day gifts for your lady luck if you like things to be subtle. It adds to the femininity of women when worn under one of their sexy one-piece dresses. Get ready for an intimate encounter with your loved one baby dolls with thongs set. It is way sexier than your everyday nightwear. Your wait ends here to see your lady love in one of these sexy baby dolls with thongs sets.
Balconette Bra and Thong: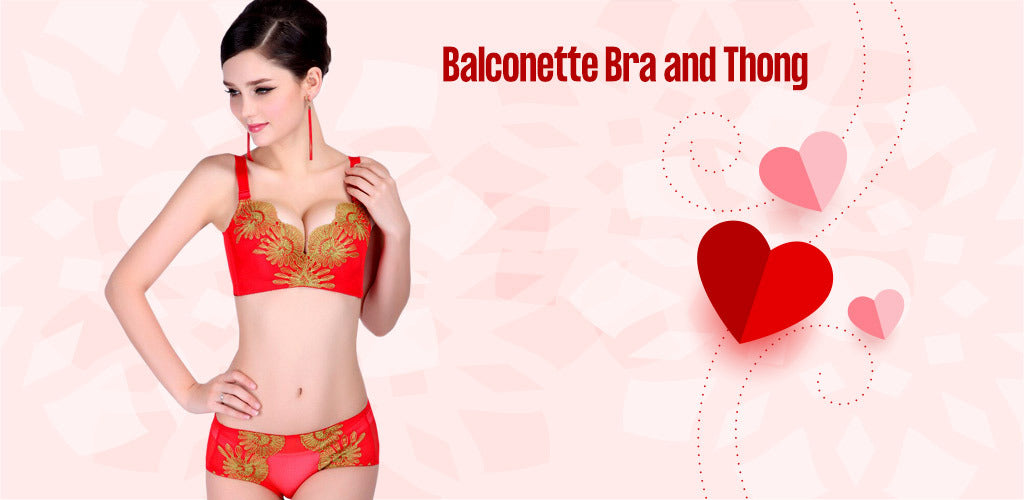 Treat your lady love this Valentines day lingerie with Innerwear Australia's amazing balconette bra and thong, which offers a lovely combination of materials in a flattering silhouette. It is crafted in a classic balconette style with its detailed lace design, smooth satin, and center keyhole detailing. Its intricate spot and bow embroidery add a modern and delicate touch. Go for a bright, bold balconette bra and thongs for a natural lift and a real impression this V-day.
Lace-Trim Short Chemise: 
Your next top Valentine's pick is our lace trim short chemise, this flirty set is lightweight, smooth, and sensual. The lace trim detailing is delicate and perfect for a touch of elegance. We have got a large range of similar chemises and sets to opt from the nightwear range for you to discover. The delicate lace overlays on the neckline and soft silken fabric that delicately engulfs the body, a perfect way to say you love her.
Pure Silk Satin Slip: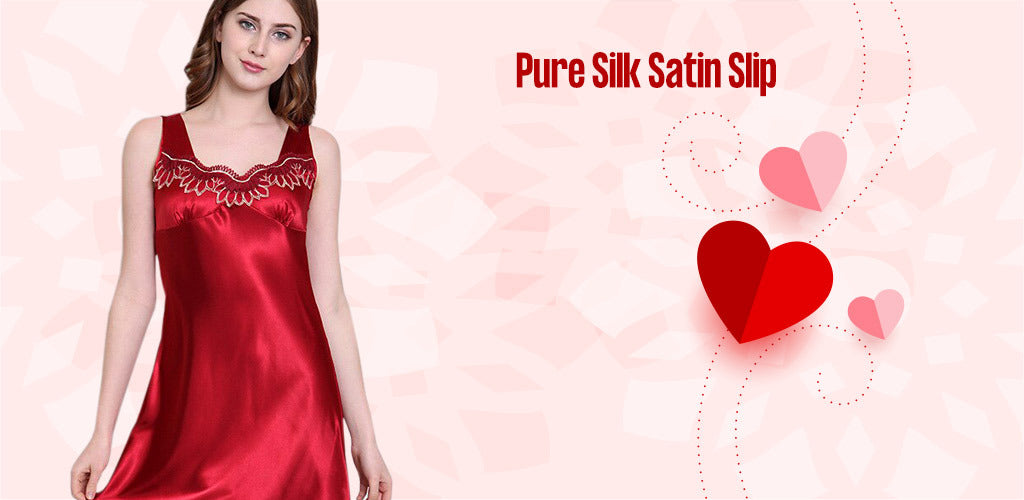 Pure silk satin slip brings an extremely high level of romance to the bedroom. It makes couples cuddle and stay close to each other as it releases endorphins the feel-good chemical in the brain. It gives a lovely and luxurious feeling.
Lace plus size bodysuit: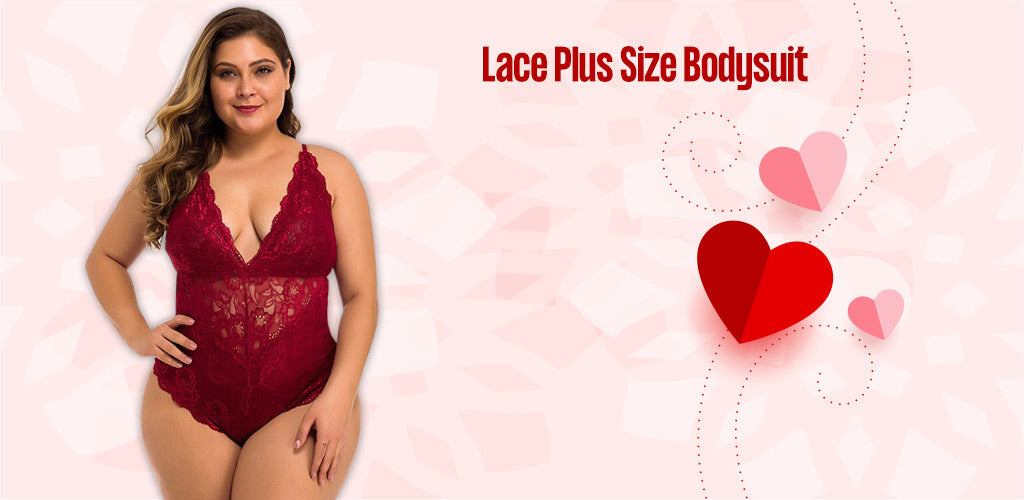 It is a perfect gift for this Valentine to make her feel like a princess in a lace plus size bodysuit with delicate trims. Beautiful layered this one-piece defines fierce femme. This type of bodysuit is perfect for a romantic evening, where it's just the two of you.
Bra and Panty Sets: 
Make your bedtime tales more special and sexier with bra and panty sets. It is the best way to turn on things at night with some sexy hot and scintillating bra and panty sets.
lace bra and lace g-string: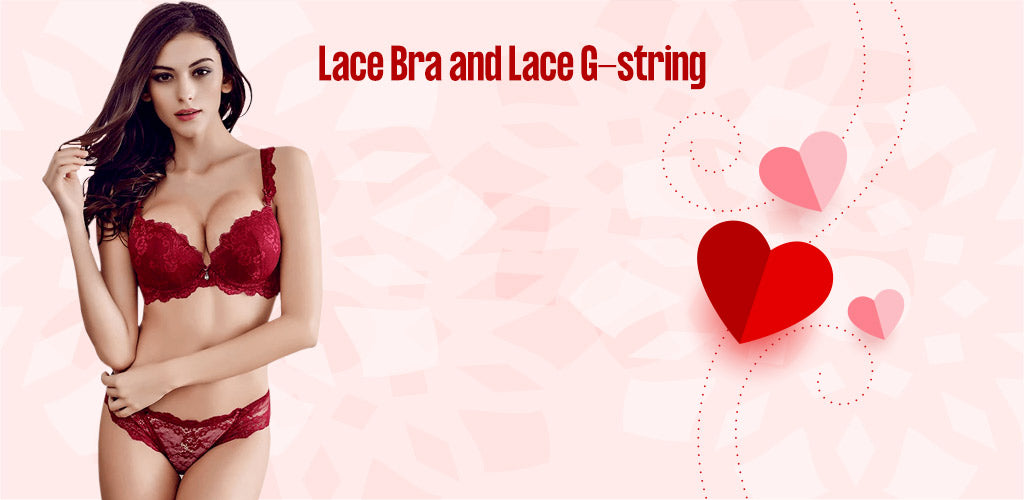 Lace bra and lace g-string give comfort and also give sexy look. It is seductive and tasteful lingerie. Boost her confidence with a matching lace bra and g-string in beautiful lace for a sensual look. It offers full support with lace cups, it may be suited for those with a fuller boost to seek more support. It gives a feminine and elegant look.
 When giving Valentine's Day gift, you need to remember that it should fit the appearance and her personality. It should match the choice of both fashion and color to your lady love's temperament. This kind of gift awakens in your lady luck undiscovered layers of passion.
Give your style a romantic twist for this Valentines Day lingerie shopping! Our lingerie collections are perfect to make your women feel confident and look sexy. Take your pick from luxurious lace, rich hues, halter necks, front closures, pretty back fabulous design this V-day.