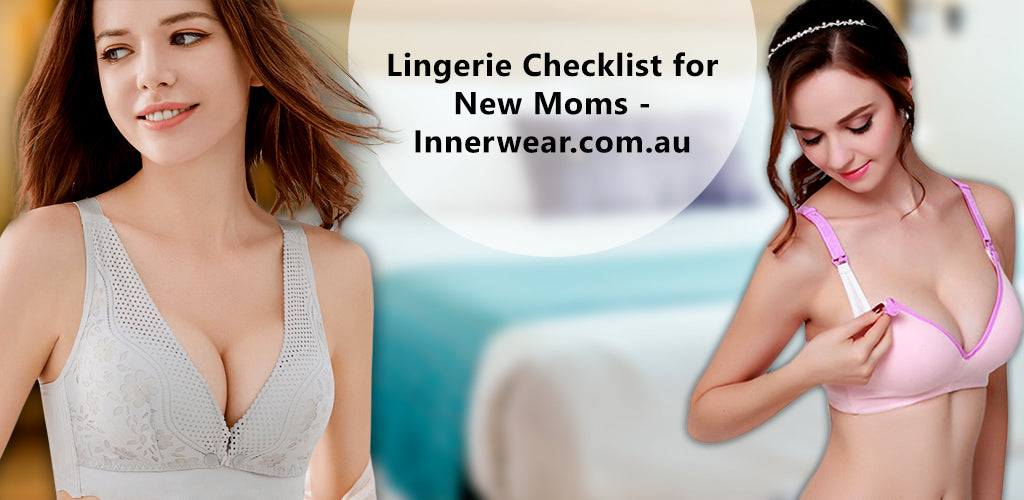 On the arrival of the little angel, you've been buying all kinds of stuff that's where the New Moms Lingerie Checklist Comes into the Picture, Have you given any thought to the comfort of your breasts? To buy the sexy Mom wireless comfort plunge maternity bra may not be as enchanting as decorating the nursery or picking out onesies, but it's an important investment. After all, your breasts will nourish your newborn for the foreseeable future; you want to keep them happy!

It's during pregnancy your body goes through major changes, beautifully bulging belly and shapely curves make them feel downright sexy. For others, the added pounds, stretch marks, and varicose veins don't exactly leave them feeling bouncy, bubbly. Sexy Maternity lingerie for a new mom can be just the thing to celebrate your hot mama bod or in need of a little boost. Heat things with a valentine bra and some stylish intimates.
Not sure where to begin with your nursing bra search? No worries, we've put together a handy New Moms Lingerie Checklist. It covers everything you need to know including different styles, key features, comfy, supportive, sexy, and inexpensive, whatever you're looking for, at innerwear.com.au we have the best nursing bras to pick for the occasion. Get sexy & comfortable lingerie for new moms from seductive sets to naughty negligees, we've got you covered.
New Moms Lingerie Checklist – Key Points To Remember
When shopping for maternity bras you should know your body type. No matter what style of bra you select, it's a new region compared to the regular bra option. You can make decisions on the basis of nursing bra styles and their key features.
Drop-down cup bras:
Get different styles of drop-down cup bras, ranging from soft support cups to feminine New Moms Lingerie Checklist with eye-hooks attached to the band that secures in the back. These bras are comfortable and easy to unhook and re-attach with one hand. These maternity bras are cups with clips that drop down for easy access. You can hold your baby in one hand and can open the clip at the same time. The clips are mainly at the top but in some, you'll find them in the front between your breasts.
Crossover bras: They are sometimes referred to as the sleep bra; it slips over your head. It comes with cross-over elastics and hidden shaper panels for extra all-day support with comfort. The seamless cups and ultra-fresh fabric support your every move and keep you cool. This bra fits, supports, and flatter any cup size. A perfect fit and plush back straps, complete with smooth, removable padded cups for light lift and coverage. For midnight feeding the bra is soft and easily stretchable over your breast. This kind of bra's design holds breast pads in place if you experience breast leakage.
Hands-free pumping bras: It has a specific function of wrapping around the upper chest, you can zip and unzip in the front for some designs, while others have straps. You can pump hands-free by openings over the nipples that help to hold the pump flange in place, after attaching the bottles to the flange. They come in different sizes and with expandable backs. The wire-free design offers a comfortable fit. It comes in a breathable cotton blend, with a wide stretch band, hands-free pumping that keeps the bottle upright, Pumping bra gives a positive experience and includes attachments to ensure convenience, ease, and necessary discretion.
Underwire nursing bras: They function like a drop-down cup bra, but are reinforced with a breast sling. The additional support is popular among new mothers in the weeks following their baby's birth and as breast tenderness starts to subside. The nursing clip specially developed is easy to use and allows the cup to be open wide for uncomplicated and quick breastfeeding. Our underwire nursing bras come with a wide range of styles, colors, and cuts with comfortably wide and padded straps that fit superbly and offer firm support, even into the larger cup sizes.
Nursing tank tops: They are regular ones, and come in a variety of cuts, fabrics, and colors. There are different nursing tank top styles, like clip down, pull-down, and double-layered style, that makes them different from regular tank tops. The clip-down style has a built-in bra and is intended to serve as a bottom layer under your clothes. Pull-down styles are usually a V-neck or crossover, more casual in feel, and are a good choice at bedtime. For easy access to the baby, it can be pulled down. The top layer in the double layer style ends in your mid-torso, which can be pulled up, and the bottom layer has a V-neck or scoops neck, which can be pulled down. It minimizes the amount of skin that is shown while breastfeeding in public.
In New Moms Lingerie Checklist It is important to consider the best sexy maternity and nursing bras, for your personal needs and family's lifestyle. Avoid this common pitfall in selection like buying the wrong size band and cup, compromising on quality, purchasing a tight-fitting bra that is not sustainable.
Recommended bra style for new moms

Racerback nursing bralette: It is specifically designed to take you through pregnancy and beyond, its uber comfortable bralette features a comfortable racerback that provides great back support.
Postpartum underwear: It is super soft, stretchy, breathable, wicking, latex-free, boyshorts cut. Thick and bulky underwear is needed after pregnancy. They are high-waisted, stretched, and latex-free for maximum comfort too.
Underwire maternity bra: This can be used throughout pregnancy and after the birth of a newborn. It offers full coverage, underwire support with the necessary single-handed clip-down nursing function.
Nursing seamless bra: This bra with cups sewn in provides coverage and comfort. They unclasp from straps for convenient access for hands-free pumping and nursing. This seamless bra helps mitigate pain from occurring between nursing sessions. It has a stretch band below the cups for added support and keeps nursing pads in place.
Wireless sports maternity bra: This wireless sports bra is very comfortable and provides medium support that you'll have for everything from high-impact workouts to lounging around the house if you are experiencing soreness.
Nursing lace bralette: Wire-free nursing bra ensures a comfy fit. It is pretty and purposeful with a wire-free pullover. It is unpadded with overlapping and stretchy fabric that nursing mothers pull aside during feeding.
Maternity chemise: The super stretchy fabric and flowy design on chemise will easily take you from being two weeks pregnant to nine months and stay comfortable for years after.
Silk Nursing bra: It is wire-free and seamless for superior comfort with removable inserts and crisscrosses straps.4 ways stretch fabric ensures your bra adjusts to your body as its changes and fluctuates with the seamless design features nursing clips for discreet access.
The most rewarding and beautiful way to bond with your new baby is breastfeeding, but it can take a toll on your breasts. One of the keys to ensuring your boobs feel supported as they take on their new role is a comfortable nursing bra and equal comfy clothing. You need to take care of your milking machine and they'll take care of those feedings.
Now You Know New moms lingerie checklist which requires everything functioning at its optimum so invest in the right lingerie from innerwear.com.au.