Women who are fashion freaks will understand how rejuvenating they feel, in the super snuggly nightwear for women. Be it that hectic schedule during the day or an entire weekend of lazing around, cozy nightwear has always been the best companion for all. The body needs a soothing touch, when in bed, comfortable women's nightwear ensures that the body feels at ease and you get a good night's sleep. During bedtime, you should always look a class apart. When you are on the lookout for some of the most fun, stylish, and coziest nightwear options, we have got many things for you!
At innerwear Australia, we have a collection of different types of Loungewear & Sleepwear for Women. When you'll visit our online store, you'll discover a wide variety of nightwear set for ladies. We bring you the very best night dress for ladies. Being comfortable at night is so important, so make sure to choose the pajamas that work for you. Discover the softness of our pajama sets nightwear, the quality, and the comfort it gives. Night suit for ladies with long tops strikes a fashion statement, they stand apart from other dresses in their own way. Each nightwear for girls has an appeal of its own.
Let's have a look at the different types of night suits for women, from classic satin pajamas for cozy nights and lazy weekends or soft tops and shorts, or silky night slips. Choose the best nightwear for women from dreamy neutral colors or opt for polka dots, stripes, and other fun prints.
Types of Different Nightwear for Women in Australia
Robe Sets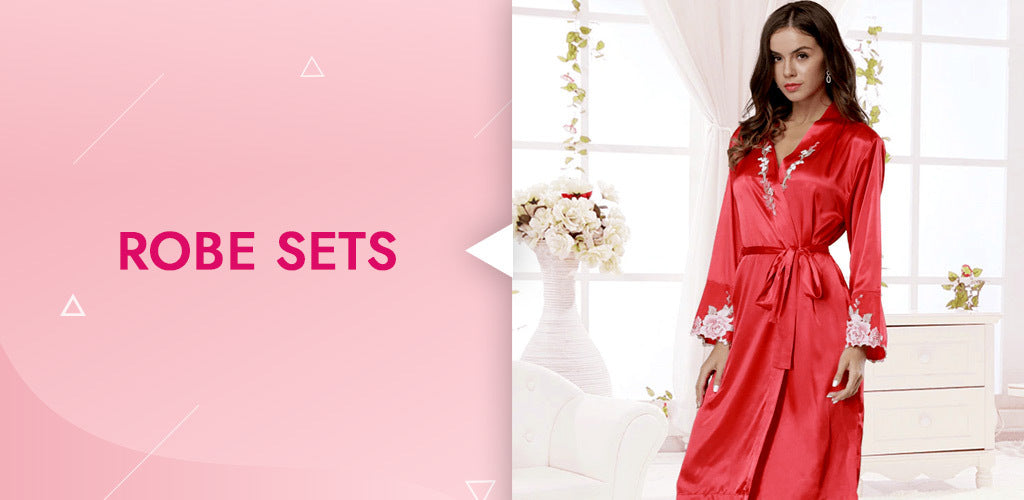 Robe sets are feminine, seductive, stylish, and come in plenty of designs. It moisturizes and pampers your body without any hassles. Have a chill night in your favorite robe. You can go for a satin robe set in floral print or lace nightwear for women to look ultra-chic for the night. Night robes come from chill to cozy with generous options about their look and feel.
Night Dress
The night dress is cute and sets the mood at night with its sultriness and sophistication. They come in a wide range of styles, from cute to erotic, you can choose the one that is right for you.
The nightdresses are highly accessible to every body type and look effortlessly good on each individual. They give a very mature look, choosing a cotton nightdress gives you a good sleep. There are many designs from lace appliques to cotton comfort.
Playsuit/Jumpsuit
The jumpsuit is the pretty playsuit that defines your fashionable side of yours. Girls can pick the short, printed playsuits or a full-length jumpsuit for bedtime fashion to calm the night by themselves. There are plenty of options available from short playsuits to longer ones based on your comfort.
The one-piece jumpsuit in dashing prints is a summer season style staple. The versatile and vibrant style of nightwear can't be ignored from satin to fleece.
Sleep Shirt/Night Shirt
Sleepshirts are the best option for all those humid nights when you feel stuffy and uncomfortable. They are super airy and you can choose from short sleeve, rolled up sleeve to long sleeve in funky prints and even floral prints
Nightie/Nightgown
Every woman loves to wear a nightgown. Stylish embroidery, printed, lace pattern nightie can help you to upgrade your plain look. If you are newlywed then you can invest in your sultry satin nighties, which give a modest look yet feminine.
Pyjama Set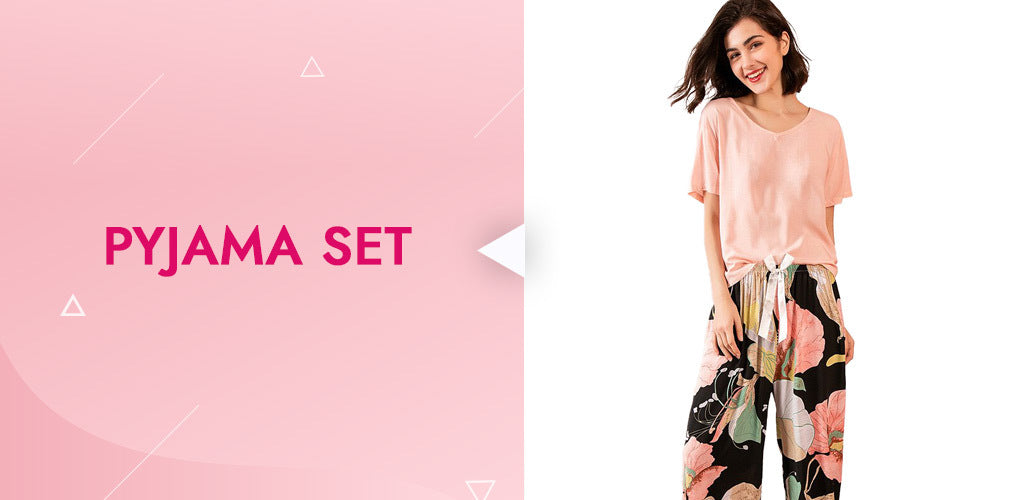 Pyjama set gives the utmost comfort and style. These days pajama sets come with funky prints, colors, and patterns. You can wear them with super comfortable night slippers.
Shorts Set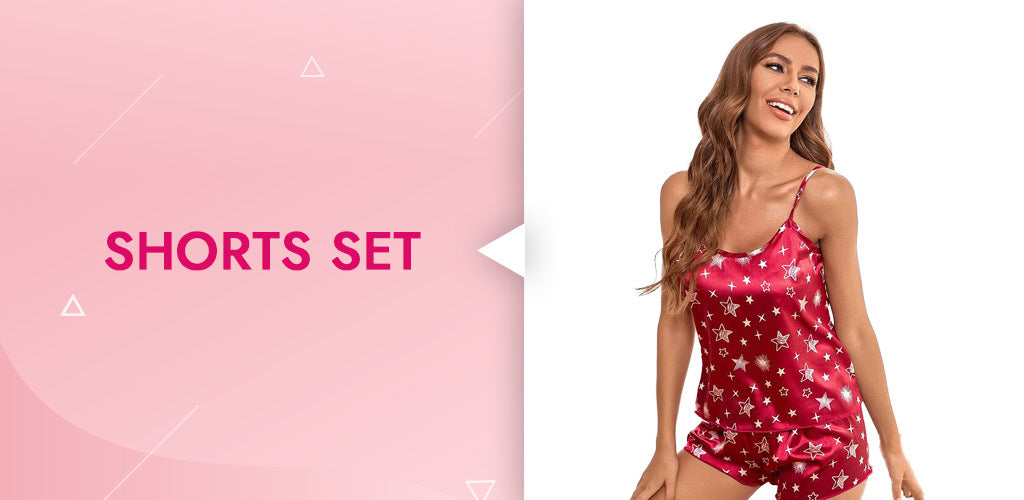 This style of nightwear makes your nights even more comfortable and fashionable. Shorts set can be the coolest thing for the tall or petite woman as it complements everyone flawlessly. Short sets give nonchalant look.
Capri Set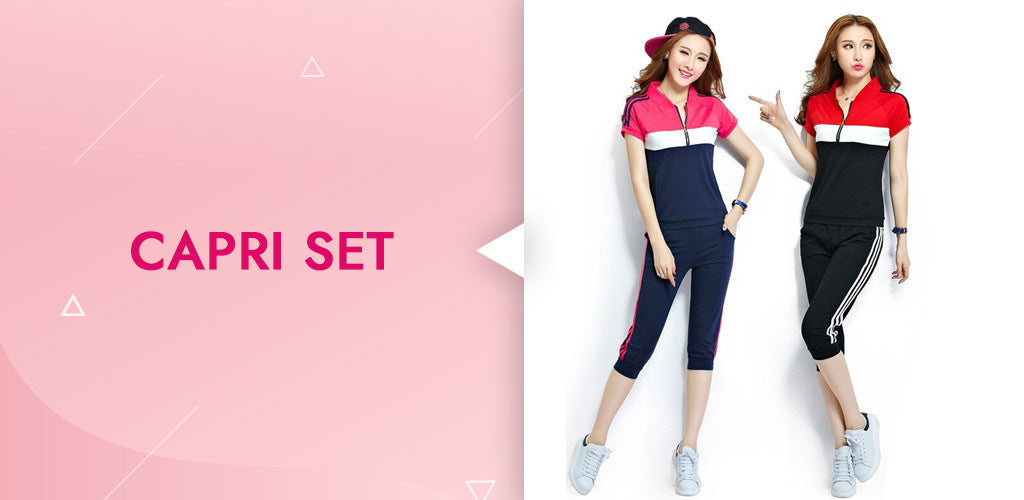 Capri set are the perfect sleepwear for the winter nights and decent wear for those who live in joint families. Capri worn with T-shirts gives a laidback look for the night. Due to their soft material, these types of nightwear give you a good night's sleep. Capri bottoms and tops complement colors, patterns give a fun look for the night. You can pair it with cute flip-flops and get a snuggly look.
Baby doll
Slipping into a lace baby doll might be perfect nightwear if you are planning something special for yourself and your partner. Baby dolls come in various designs and you can choose the best one for yourself. They are alluring and fashionable. Lace trims and satin fabric make our camisole and shorts set special and ideal for the night. Baby dolls have all the reasons to spice up your night, whether it is the first night after the wedding or a special anniversary, these sheer types of nightwear make it memorable.
Every woman should own this nightwear style, this little guide might help you pick the sweetest and perfect sleepwear for you to get a restful and pleasant sleep.
Shop with innerwear.com.au to get the best deals from the best brands for cute nightwear for women and you'll never get disappointed. You can upgrade your wardrobe with our best lingerie collections and look like a style icon.