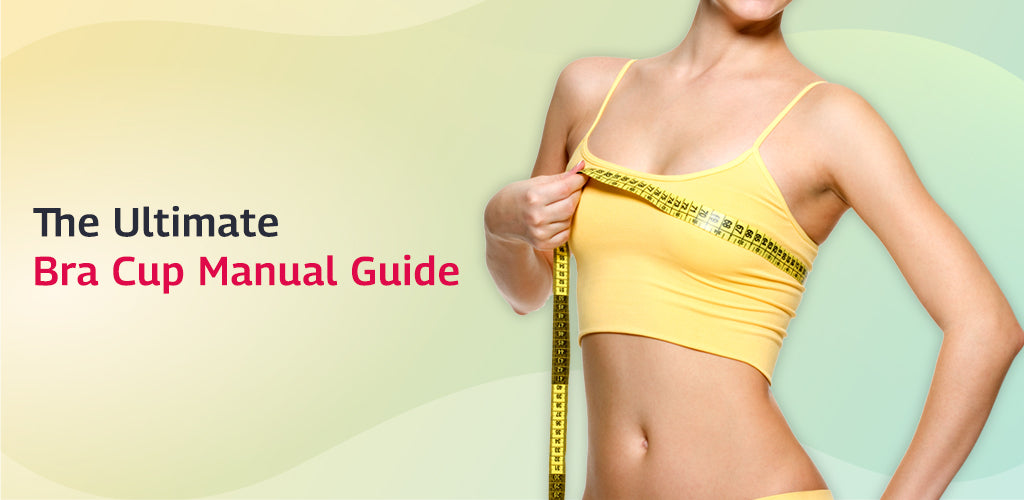 Are you looking for the right bra? Then there is more to consider than just which size to buy. Bras are available in an extensive range of varieties, and the style greatly affects how well it fits and how it looks on you. To find your ideal match, the most common cup types you'll see in online stores areas listed. This bra cup manual guide is to cup shapes particularly, not an exhaustive list of every bra style ever.
Bra Cup Manual Styles
There is a subset of cup shapes, within each bra style. So it's essential to know the many different cup styles for your bra choice to meet your needs. A list of different types of bra cup manual is as below.
Balconette cups:
They are short cups than demi cups, shaped like a balcony, the tops of the cups are to be cut more horizontally above the bust line and give one's breasts the look of fullness and uplift. The vertical seams under the bust give an added boost. A balconette cup has a little padding that acts as a bust enhancer. It makes it ideal for wearing under square and scoop necklines. Balconette bras are more suited to women with shallow or full-on bottom breasts. Women with smaller, rounder breasts can fill out the balconette's short cups without spilling over. Women with narrow shoulders find that the straps of a balconette bra regularly slip off.
Demi cups:
A demi cup has less upper breast coverage. They are generally cut to 1" above the nipple height and show more cleavage in push-up bras. They can be a good choice for a woman who has issues with her underwires poking under her arms. Most demi cups push the breast towards the center for more cleavage due to its slight inward tilt. Its design is great for a petite woman because the bra proportion is smaller and better accommodates their small frame. Demi cups bras offer plenty of support for larger cup sizes and are suitable for a wide range of breast shapes, depending on their construction. But with the added benefit of being able to work with lower necklines! You could pair demi bras with a V-neck top without worrying about showing your bra cup manual. It covers only the underside and bottom half of your breasts and gives good support, as long as you pay attention to the sizing, wiring, and straps that you need. Sagging breasts can perk up long with a demi bra.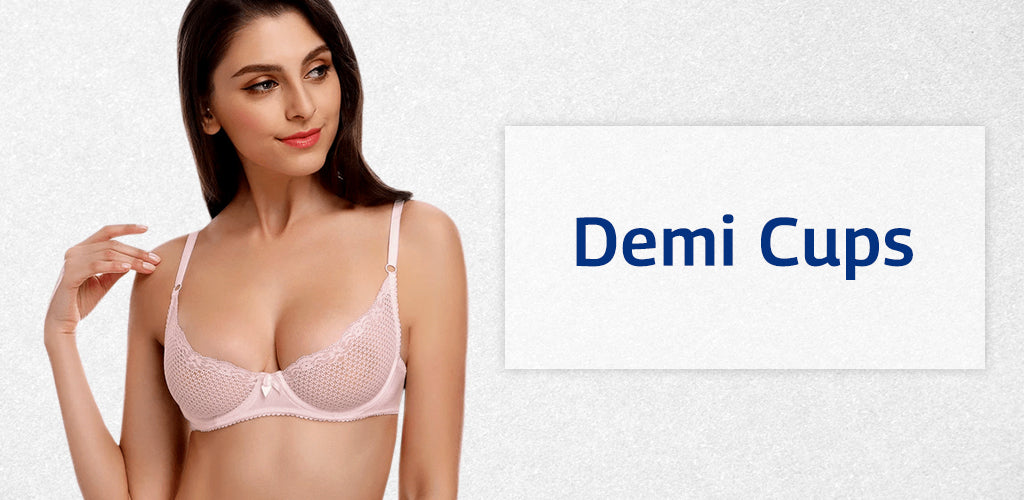 Full cups:
It covers most of the breast, and offers both more coverage and support. A full cup bra is a great design choice, under form-fitting clothes as it will not cause a visible line or indentation along the top of the breasts. Full cups inclined to have center-pull straps. It reduces strap slippage. Full cups give a fuller upper breasts silhouette to a woman with shallow and deflated breasts. Full cups are very common in sports. They are designed with a huge gore and lots of fabric, to offer an enhanced level of support, so it's ideal for full-bust sizes. For shallow breasts at the top, you may see that full-cup bras gape or wrinkle here. They're also the most likely to peek out the form under low or wide-cut necklines.
Minimizer Cups:
A minimizer cup gives the look of reducing the projection of your breasts. Women can wear front-button shirts and blouses without gapping with these cups. A minimizer cup gives out the breast flesh more towards the underarm and the center front. It only shifts breast mass in areas other than directly in front. No minimizer cup can reduce your volume of breast tissue.
Nursing Cups:
These cups are specially designed to allow access to the baby for nursing without the mom having to take off her bra. Nursing cups come in different variety of configurations. Nursing bras and maternity bras are different, maternity is for wear during and after pregnancy, and nursing bra has removable flaps for easy breastfeeding. Most nursing bras offer full coverage until you open them as needed to breastfeed. It can benefit breastfeeding mothers of any shape and size.
Push-up cups:
It increases a woman's bustline by creating cleavage and the look of fuller breasts. Push-up cups are shaped like a demi cup with notable padding at the bottom of the cups, primarily designed for c cups and smaller. The breast tissue falls towards the center and creates a cleavage when the cups are tilt inward. An egg-shaped pad at the bottom of the cup called the bump pad is sometimes removable. The breast tissue is pushed up and inward with the pad placed on the bottom outside area of the cup.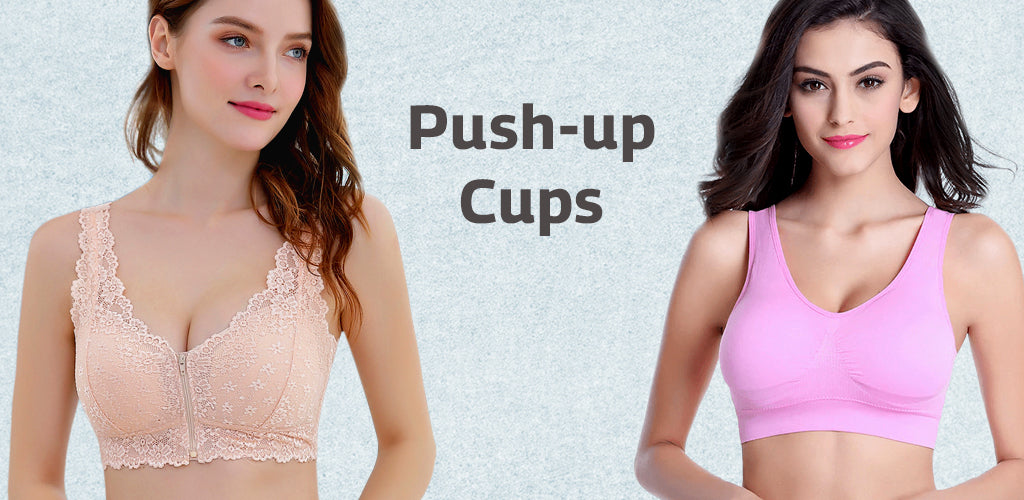 Seamed Cups:
Two or more fabric pieces are used to make seamed cups. Seaming on a cup lets more variations in cup shapes. Vertical and diagonal cup seams add to the cup's support and nurture more flattering to one's breasts. Seamed cups will always be more supportive than molded cups. A seamed cup bra is made out of many fabrics like lace, satin, silk, etc. You can go for seamed cups for a fine altering and a better fit. They may be seen under t-shirts and form-fitting fashions. The different seamed cup variations are.
Horizontal seams:
A more projected and slightly conical shape to the bra cup manual is given in horizontal seams.
Vertical center seams:
It is very supportive and gives an uplifting effect to the breasts. It is mainly found in demi or balconette cup shapes.
Transversal seams:
It gives a more rounded shape to the breast tissue and is very supportive.
Diagonal seams:
It provides support, centering, and lift to the breasts. The diagonal design gives a very flattering appearance to the wearer.
Padded cups:
It has fiberfill in the cups. To give a well-proportioned look to smaller bust lines, this padding adds size and definition. It has materially added to the cups that help your breasts look fuller and keep your nipples from showing through your clothes. Padded bras come in all styles. It provides great coverage, though the amount varies depends on the bra style. A padded bra is best for all shapes and sizes. It can add fullness to a smaller bust and add an even shape to breasts that are far apart.
As you can see, you've got a huge range of bra types to choose from, the search for the right bra is a never-ending puzzle, you may find it helpful to take a step back. You can give yourself time to try out different types and see what feels comfortable and confident while having your health need met. Wearing a bra cup manual that is less than optimal can take a toll on your physical health. Poorly fitting bra discourages people from physical activity. It can cause pain in your neck, back, and shoulders
Looking for a bra that fits properly and makes you feel good! Buy now from Innerwear.com.au at an affordable price.