When talking about the kind of bra, they come in several different styles from strapless, T-shirt bra-padded, Non-padded, wire-free, and sporty to full coverage, and many more. While purchasing any kind of bra the most important thing you must consider is the kind of bra that you want. Should it be a wired bra or be it a wireless or non-wired bra? The decision solely depends on you. Wired, Non-wired T-shirt bra style each has their distinct benefits, one style isn't necessarily better than the other. It is all about individual preferences. To understand the difference between the two is that one is designed with a wire that supports the shape of the cup while the other is free of wires completely.
There are common misconceptions about wired bras, in regards to breast health and comfort. Underwire bras are comfortable as long as the bra is made of quality material like no poke underwire and you wear the correct size. There is an issue of restricted blood flow, skin irritation and worsened symptoms of acid reflux when you sleep in a bra that is too tight. We have come up with some essential differences between wired and non-wired bras to make you aware of them.
Now let's get into the perks and pains of Wired T-Shirt Bra & Non-Wired Bra
Underwire bras Pros 
Underwire bras offer more support and shape due to their wired structure. This style is recommended for women with larger breasts, who may want more support in their daily wear bra. Underwire bras provide your breasts with more lift than a wireless bra.
Wireless bras are perfect for lounging, napping, and running chores. The everyday bra can be replaced with a wireless bra, with the amount of support you required. A wireless bra provides the same great benefits as a wired t-shirt bra without wires. You can enjoy light support and maximum comfort with a supple stretchy fabric that has a comfortable band.
Cons: Wireless left you too structureless, it won't give you the same silhouette as you get with a wired t-shirt bra, which is noticeable when wearing fitted tops. A wireless bra is not enough to offer you the everyday support that you look for if you have larger breasts.
Difference between Wired T-Shirt Bra and Non-wired bra
Breasts get a contoured round shape with wired t-shirt bra. Non-wired bras increase the natural shape of your boobs.
Wired t-shirt bra provides great support. Non-wired bras provide great comfort.
Wired bras give perfect lift and shape under your tops, dresses, and shirts. Non-wired bras are designed for lounging, napping, and running errands.
Wired bras are the best one
These bras have a supporting wire that lies under the cup, which gives your breasts a superior lift, separation, shape and also boosts confidence. When wearing a wired bra for long hours in the day, help you avoid back pain and discomfort. They sit flat at the centre of your chest and avoid chafing. A special patented underwire casing called fortitude makes wired bras super comfortable for all-day wear and doesn't have digging and punching. Fortitude is flat and flexible gives a good fit and endless comfort.
What is the difference between a t-shirt bra and a normal bra?
A bra that has smooth and seamless cups is called a T-shirt bra. The smooth cups won't reveal any lines under a T-shirt giving a flawless look. The cups are soft made of thin knit fabric and designed not to show any lumps, bumps, or textures through your clothing due to seamless fabric that offers nipple coverage. These bras are so adaptable and give a great foundation for anything that doesn't need a speciality bra. What makes a T-shirt bra truly different from normal bras is the thin layer of padding that gives lift and shape and prevents nipple showing through. Normal bras have horizontal, vertical, or diagonal seams, to help with lift and support. A T-shirt bra doesn't have any seams, it would be at its very purpose to provide a smooth finish under a fitted T-shirt.
Difference between a t-shirt bra and a minimizer bra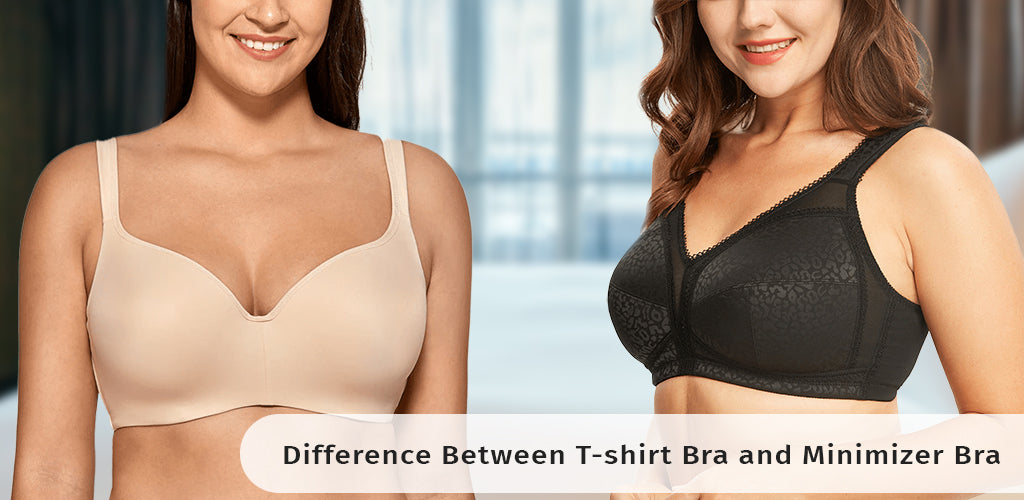 A minimizer bra works to minimize the appearance of your breasts. It makes the breast look smaller, without compromising on the natural shape of your breast and body. There is a layer of comfortable padding that extends. Women with larger breasts get support and security that is needed all through the day. The cut of the minimizer bra is planned to make breasts appear one or two sizes smaller. Sculpting materials are used for this bra to hug the breasts close to the body and make them appear smaller.
T-shirt bras
This bra is crafted to be worn under a T-shirt without showing nipples and looking unattractive, therefore does not have any seams or lace that could be seen through a T-shirt. Some of them have foam cups to give your bust a nice, rounded shape, they are available with and without underwires. Wear a T-shirt bra for a close-fitting T-shirt. Buy best T-shirt bras online from Innerwear.com.au
Is a t-shirt bra good for a heavy bust?
Yes, T-shirt bras are good for heavy busts; as the straps are very wide, and padded on the shoulder make them feel super comfortable and wearable all day. The underwire is very comfortable and doesn't come up too high under the arms, and it did not sit on the chest as well. If you don't want to add bulk, it is a good pick as the cup aren't padded. Women with heavy breasts can wear it without worrying about headlights showing. The backstrap of the bra is adjustable and can be set a bit narrower to provide some centre pull. The straps will not slip off the shoulder for women with narrow shoulders. The bands are extremely sturdy and double-layered in the back. All sizes have a respectable 3-hook closure. It provides great side support to keep your boobs pointing forward.
Cotton bra for heavy breast
The cotton bra is good for heavy breast as it let your skin breathe, prevent rashes and skin irritations. For sensitive breasts, this bra doesn't pinch or feel tight against your skin. Underwired bras are the most workable option as the underwires offer much-needed support and upliftment to the breasts. Cotton minimizers are the perfect fit as it reduces the possibility of bust sagging for heavy breast.
Buy the best T-shirt bra from innerwear.com.au to get a smooth and perfect fit, and are a great match for all your ethnic as well as western outfits.